Managing Functional Gut Disorders: Probiotics and Irritable Bowel Syndrome (IBS)
by Erin Giberson | April 30, 2018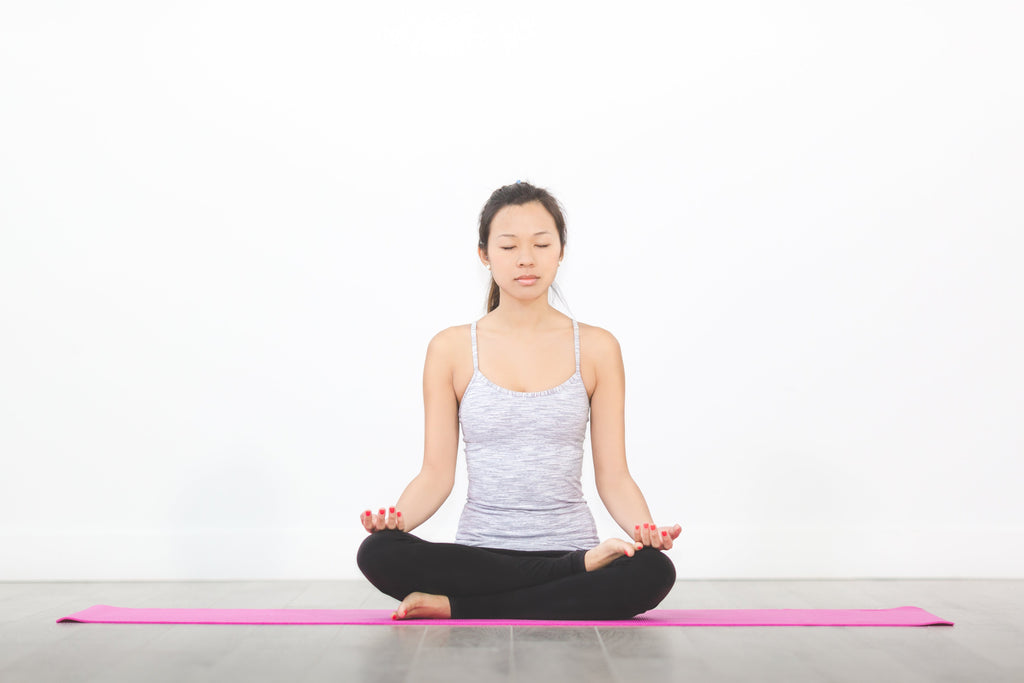 Fellow runners have told me it's mile 5. That is, mile 5 is when your body finds the groove and gets in a rhythm. Mental releases into motion, and you're just running. And I agree. Mile 5 is when running exquisitely takes over.

The other thing runners tell me about is bowel movements. If you think that mentioning bowel movements feels like a sudden stop from talking about the bliss of running, well, it is. Because the worst thing in running, especially in a race, is having to stop because you have to go.

Going from that rhythm of movement and adrenaline to standing still, squatting rather, in a port-a-potty, with the pressure of time and sometimes the heat, knowing you have to hurry and get back out there, can be frustrating and stressful.

Fortunately, though, it's pretty quick. You do get back out there and start again. Eventually you reach the finish line. And the next time, you stock up on tips from more runners and work your routine better so you can adapt your running prep to fit in all the peeing and pooing you can before the race start, sometime around 7:30am.

But what if that was every day? What if every day felt like a half marathon of 13.1 miles or a marathon at 26.2? What if every outing, every walk, every drive, every grocery trip, every errand, every party, every day felt like one giant long race of not knowing when or where the bathrooms would be and of not knowing when or where you'd be hit with abdominal pain, cramping, bloating, diarrhea, or constipation? What if every day took planning and felt like one long stretch without relief? 
April is Irritable Bowel Awareness Month 
Well, it would be hard. And that's how it feels like to live with Irritable Bowel Syndrome. Since April is IBS awareness month (with the Ribbon Color of periwinkle), it's a good time to talk about this disease, what daily life is like for those diagnosed with it, and ways of managing the symptoms. It's important for anyone living with IBS as well as for others to increase understanding for those dealing with symptoms. It's also important to understanding more about digestive health.
Irritable Bowel Syndrome (IBS): What is it?
So, what is IBS? It is an intestinal disorder with pain and uncomfortable and painful gastrointestinal symptoms disorder where the brain and the gut don't communicate as they should. It's a functional disorder, which means that it comes from a problem with the way a normal body function is carried out, instead of something foreign, like a virus. And unlike other illnesses that don't involve foreign assassins—cancer, for example—IBS will not show up on any tests or examinations" (McGovern 2016).
Types of IBS
With IBS, symptoms range from gas and bloating to constipation and severe abdominal pain. Symptoms, which can be sustained or come on suddenly, can make it embarrassing for those with it to talk about and hard to venture to new places where a bathroom might not be close. It's not something that people can see yet is painful, uncomfortable, and frustrating (McGovern 2016). The frustration is compounded by the challenge that symptoms impart on daily routines.
While some people experience all symptoms, IBS is classified into 4 subtypes of those who experienced focused symptoms:
IBS-D: Diarrhea-predominant
IBS-C: Constipation-predominant
IBS-M: Alternating between diarrhea and constipation
IBS-U: Unspecified, for people who do not fit into one of the above
IBS Causes and Triggers
IBS affects "10 to 15 percent of adults, and twice as many women as men" but has no cure (McGovern 2016). The cause is also unknown (NIH 2017). However, research now suggests that the "gut-brain axis" influences digestive health; imbalance increases the occurrence of gut disorders like IBS, the symptoms of which are exacerbated by stress.

The mind-body connection is not new; however, research on the microbiome reveals that digestive health significantly impacts mood and physical wellness (Harvard Health Publishing 2018). Functional GI disorders, such as IBS, reflect how the mind perceives physical symptoms. For many with IBS, the severity of symptoms, flare-ups, triggers, and type are influenced by the individual's sensitivity to gastrointestinal function (Andre, 2016).

Along with stress, "gut flora imbalances may contribute to the symptoms of IBS. [Since] probiotics help restore balance in a number of ways, including by inhibiting the growth of harmful bacteria, reducing inflammation and slowing down the digestive system," they also have the potential to decrease symptoms that those with IBS experience (Mandl, 2018).
Things that Increase the Occurrence of IBS 
Certain experiences and problems, along with genetic inclination, are thought to be possible triggers:
stressful or difficult early life events, such as physical or sexual abuse
certain mental disorders, such as depression, anxiety, and somatic symptom disorder
bacterial infections in your digestive tract
small intestinal bacterial overgrowth, an increase in the number or a change in the type of bacteria in your small intestine
food intolerances or sensitivities, in which certain foods cause digestive symptoms (NIH 2017).
Irritable Bowel Syndrome Probiotics Treatment
Treatment requires identifying and eliminating triggers as well as taking medications and practicing stress-management (Rodriquez, 2013). Recent studies, though, also point to the positive effects of probiotics on irritable bowel syndrome and the role of probiotics in treating irritable bowel syndrome. Treating IBS with probiotics does not cure the disorder and does not tend to eliminate all symptoms, but can reduce single symptoms, such as bloating (Cong et. al 2013).

IBS symptoms have been linked to certain changes in the gut flora. For example, people with IBS have lower amounts of Lactobacillus and Bifidobacterium in their guts, and higher levels of harmful Streptococcus, E. coli and Clostridium (Mandl 2018).
This lack is why a "number of studies have shown that specific probiotics may have the potential to target specific symptoms. Probiotics from the Bifidobacterium, Lactobacillus and Saccharomyces families have shown particular promise" (Mandl 2018).

Some people might wonder, do probiotics trigger IBS? The answer might be specific to the individual. While some reactions may vary, "many studies have now shown that [probiotics] use is associated with better outcomes in irritable bowel syndrome (Thomas 2018).

Specifically, IBS friendly probiotics "that have been considered in this area and which produce similar effects on the pro-inflammatory (IL-12) and anti-inflammatory (IL-10) cytokine balance include the following strains of Lactobacillus (Thomas, 2018):
L. plantarum 2999
L. rhamnosus LGG
L. reuteri
L. acidophilus
L. casei
Choosing the Right Probiotic
If you're wondering about IBS probiotics benefits, probiotics dosage, and probiotics side effects, or which particular strains seem to improve symptoms, it's especially important to look into the research behind the selected probiotic strain.


Choosing the best probiotic supplement for irritable bowel syndrome requires choosing the right probiotic for the symptoms. Consider these "tips when making your selection" (Mandl, 2018):
Choose an evidence-based probiotic (one that has research supporting it)
Select a probiotic according to your symptoms: Choose strains that work for your issues
Take the right dose: Use the dosage recommended by the manufacturer
Stick with one type: Try one variety for at least four weeks and monitor your symptoms"
Again, while curing IBS with probiotics is not possible, it is possible to find the best probiotic supplement to help with IBS constipation, IBS diarrhea, and IBS gas.
Containing a clinically effective dosage of 100mg (100 billion CFU) of Lactobacillus Casei K-1, sho Balance vegan probiotics are produced from extensive research and under stringent manufacturing regulations.
While many IBS probiotics tablets or pills can be difficult to swallow, sho Balance probiotics supplements are especially designed to be easy to take and swallow as they are in small Spheri-Gels. Taking two daily for a minimum of two weeks is recommended to experience the full benefits of debloating, regularity, and immunity.
Getting Back in the Race
The frustration of a bathroom pit stop in a race is nothing compared to living with IBS. But the race metaphor is common to life. Most of the challenges we each face can discourage us to stop, or motivate us to keep going. While IBS treatments take time to have effect and while the struggle is both physical and emotional, managing IBS with probiotics is a way to refurbish the gut with the bacteria good guys that support healthy digestive functioning.
For more information about IBS symptoms and treatments, visit the International Foundation for Functional Gastrointestinal Disorders at https://www.aboutibs.org/living-with-ibs-main/ibs-awareness-month.html

References
Andre, D. (2016). Irritable bowel syndrome symptoms, recognizing IBS signs, triggers, and types. Belmarra Health. https://www.belmarrahealth.com/irritable-bowel-syndrome-symptoms-recognizing-ibs-signs-triggers-and-types/

Cong Dai, Chang-Qing Zheng, Min Jiang, Xiao-Yu Ma, and Li-Juan Jiang (2013). Probiotis and Irritable Bowel Syndrome. https://www.ncbi.nlm.nih.gov/pmc/articles/PMC3785618/

"The Gut-Brain Connection." https://www.health.harvard.edu/diseases-and-conditions/the-gut-brain-connection.

Mandl, E. How Probiotics can help fight IBS. healthline.com. https://www.healthline.com/nutrition/probiotics-for-ibs#section1

McGovern, A. (2016). "What It's Like to Have Irritable Bowel Syndrome" The Atlantic. https://www.theatlantic.com/health/archive/2016/09/what-its-like-to-have-irritable-bowel-syndrome/501182/

Minich, D. (2017). The gut-skin axis: The importance of gut health for radiant skin. HuffPost. https://www.huffingtonpost.com/entry/the-gut-skin-axis-the-importance-of-gut-health-for_us_5983db63e4b00833d1de2703

NIH. (2017). Symptoms and causes of Irritable Bowel Syndrome. National Institute of Diabetes and Digestive and Kidney Diseases. https://www.niddk.nih.gov/health-information/digestive-diseases/irritable-bowel-syndrome/symptoms-causes

Rodriquez, D. (2013). IBS and stress-management. https://www.everydayhealth.com/ibs/ibs-and-stress-management.aspx

Thomas, L. (2018). Probiotics and IBS. https://www.news-medical.net/health/Probiotics-and-IBS.aspx
---
---
---
6 Responses
Leave a comment
---