How Does a Celebrity Yoga Teacher and Mom of 3 Do It All?
by Joy Wang | August 30, 2018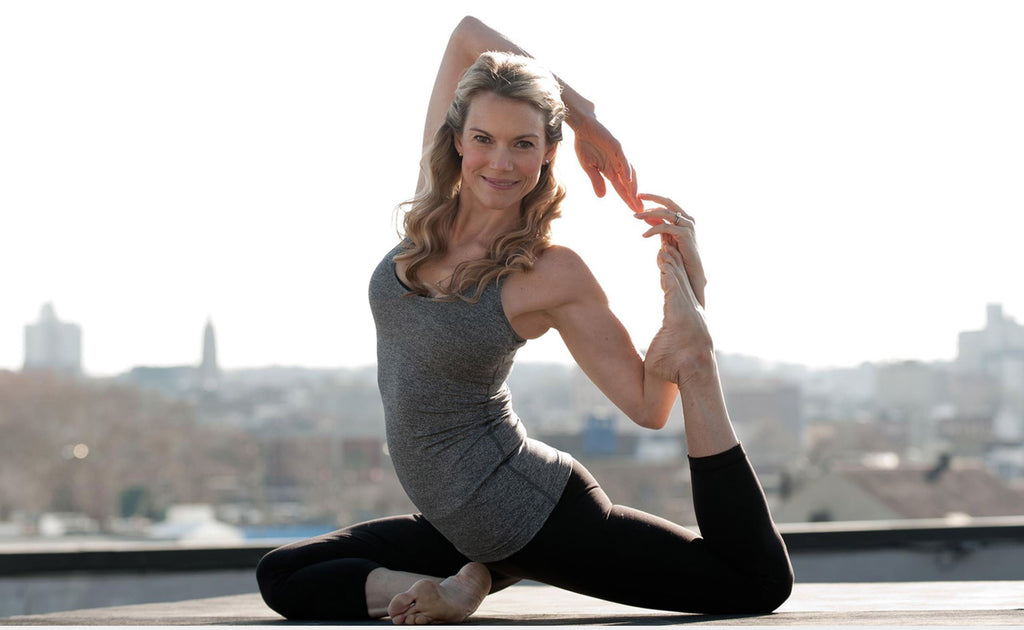 In today's #shoWisdom blog series we interviewed healthy lifestyle role model, Kristin McGee, a celebrity Yoga and Pilates instructor to Savannah Gutherie, Steve Martin, Tina Fey, Leann Rimes, Bethenny Frankel... and more, a mother of 3 boys all under 3! 
Kristin is considered a pioneer in the yoga movement as she began her career as yoga teacher in the nineties after graduating from New York University's Tisch School of the Arts.
How does she do it all looking beautiful and staying organized? Kristin shares her secrets with us on living a simple, healthy, organized - sho lifestyle - during this hectic newborn time period with no sleep, taking care her family and launching her first book titled: Chair Yoga: Sit, Stretch and Strengthen Yourself to a Happier Healthier You.                                         

What does "healthy" mean to you?
Staying present in the moment. Being able to connect the mind and body through breathing. Moving every day! Surrounding yourself with people you love. Eating mindfully! Listening to your own gut! Putting on your sunblock!
How do you stay healthy with little sleep?
I make sure I eat breakfast no matter what. Some of my favorite breakfast meals are oatmeal, flaxseed, and whey protein, eggs with avocado toast and greek yogurt with granola and berries.  I also make sure I move every day even though I am just 3 weeks postpartum. I drop my 3-year-old off at school every day and do gentle stretches.
When I am in top form I do a combination of cardio, core workout, yoga and strengthening every week. I also make sure I get 8 hours of sleep when I am not living the newborn life.
To top off it off I truly believe laughing is important and taking myself to the land of make believe. I am fortunate I get to do this with my 3 year old. I believe in not getting bogged down into email and screen time so much and finding joy in life.

What challenges do you face in eating right, exercising and remembering to maintain daily healthy routines?
Right now with my sleep deprivation, it's so easy to resort to sugar and coffee! I tell myself to not rely on external substances but have them in moderation. As a result of this motto, I will have a coffee in the morning and one glass of wine at night. To help me get through the afternoon with my kids I take the sho Energy+ supplement that give me the right amount of energy without reaching a super high and crashing. It's sustained energy and
To help me get through the afternoon with my kids I take the sho Energy+ supplement that give me the right amount of energy without reaching a super high and crashing. It's sustained energy and perfect with all three kids at home with me.
What healthy tips and routines can you share that helps you be the best?
I start with a meditation every morning to set the tone of the day. I also try and do some gentle stretches to get movement into the day and take my son to school. I also make sure I get enough water every day and stay hydrated, sleep 8 hours if possible, laugh, live in the moment and feed your soul. I also try to eat a lot of protein for weight loss and maintenance and swear by probiotics like sho Balance. 
What do you love about sho Nutrition? How do you feel after taking sho Energy+ or sho Balance?
I love sho Energy+ as  I don't get the jittery feeling like sports drinks. It's natural and healthy and gives me steady energy vs. a high and a crash. sho Balance has also been working very well for me to stay regular and protect my immunity in the winter.
How are you incorporating sho into your daily routine?
I take sho Energy+ as needed for energy. I always take it after my lunch for a mid-afternoon energy boost. I take sho Balance in the morning with my breakfast and coffee routine. 
Could you share a piece of #shoWisdom to help people live a simple, healthy, organized life?
"Everything you could possibly ever want have or need is right here inside of you"
Anything else you would like to share?
The dispenser that you guys developed is smart and clever. It's perfect to take on the go and a blessing for me that has way too many things on my mind.
With Kristin's interview, we hope you can find one or two insights or tips to help you live a simple, healthy, organized lifestyle. Interested in connecting with Kristin? You can comment here or find out more about her at:
http://kristinmcgee.com/
---
---
---
Leave a comment
---