If a Health Routine is Not a Part of Your Lifestyle, It Won't Be Sustainable.
by Joy Wang | January 01, 2018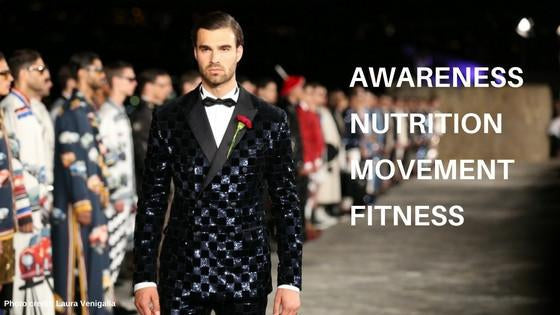 "Fitness isn't the summit of a mountain; it's a series of locked doors along a journey that take specific keys to unlock. The first ones are the hardest but they get easier with perseverance."  - Jonathan Hippensteel, International Model / Ironman Triathlete / CrossFit Trainer
We all know that proper nutrition and physical activities are important to our health. But when life gets in the way, our efforts to stay healthy get thrown into the back burner... At sho Nutrition, we are all about living a simple, healthy, organized – sho lifestyle, and we decided to speak with healthy lifestyle role models in the US and around the world to gather #shoWisdom that could help all of us to do more, feel better and be happier.
Today we hopped on WhatsApp and had a chat with Jon Hipp (short for Jonathan Hippensteel) who is in Milan, Italy, for his modeling work these days. Originally from Allentown, Pennsylvania, Jon is a real jet-setter traveling from one cool city to another, juggling modeling projects while building out his Fitlife Unlocked coaching platform to help people unlock their fitness potentials. Jon not only shared with us his health and fitness tips, but also how he resonates with the simple, healthy, organized – sho lifestyle.
What was your health and fitness journey like that led you to maintain your peak physique and healthy state? 
Interestingly, my first job was in banking, sitting in a cubical working in front of a computer screen… I guess I hated it so much that I turned to Ironman training. Since 2009, I've competed in three Ironman Triathlons and numerous other triathlons, marathons and obstacle course races. Someone suggested that modeling might be a better fit for me than banking, and that's how I made the switch. The transition into modeling made me even more conscientious about my health. In between my modeling jobs, I started to organize my fitness experiences into programs to help people become healthier. I really want to make a difference in people's health and wellness, especially since there is such an obesity epidemic in the U.S. and around the world.
What does "health and wellness" mean to you?  
When it comes to health and wellness, I think about four principles.
Awareness. Nutrition. Movement / Mobility. Fitness. 
AWARENESS: Being conscious that every action I take leads me toward wellness or disease. 
NUTRITION: What/when I eat and what/when/how much water I drink have real and measurable effects on my overall well-being.
MOVEMENT / MOBILITY: Movement is the key to life and I know that if I neglect my body by not moving, mobilizing or maintaining certain functional ranges of motion in my joints, my health will be compromised. 
FITNESS: I first must be aware of my body and how I interact with the outside world through air, water, food and movement and then must work to develop an optimal nutrition and hydration strategy through guided self-experimentation; then, ensure that I am mobile and moving enough. From there, I can workout with Functional Movement exercises, Sport-specific training, weight lifting, etc. Fitness can be added during steps 1-3 but very carefully!
In short, being healthy means eating and moving with a conscious attitude about how my body reacts to movement and what I put in my body. Healthy means being able to perform optimally in sport but also life in general! I like CrossFit's definition of "Fitness in 100 Words" and agree with their model for health and fitness. 
What is your typical diet? 
High fat, moderate protein and low carb (low grains and refined/processed carbs but high vegetable and moderate fruit carbs). I intermittent fast almost every day (only eating between 1-9pm approximately). I usually break my fast with healthy fat, some protein and greens or Hipp's Shake of life. Now, I also click shoBalance every day that keeps my gut health in check. 
What healthy tips and routines can you share that help you stay healthy and be your best? 
Rarely eat high-GI carbs in the morning; always earn your carbs; teach your body to use fat as fuel by incorporating fasting periods into life and consuming healthy fats regularly; plan cheat meals or cheat days to keep you motivated but always have a plan for recovering from them and getting back on track. 
What challenges do you face in eating right, exercising or remembering to take supplements? 
Being healthy has to be a lifestyle! If it's a chore or something you dread, it won't be sustainable. So learn to love experimentation, think outside the box and always be learning about new and fun ways to stay fit and do what works for your body! 
I have a different schedule every day so food prep is important. Sometimes traveling makes it difficult and time-consuming to eat and live healthy, but I try to "gamify" being healthy so it is fun - like a healthy food and fitness adventure, and I actually love spending time in supermarkets around the world and reading the nutrition facts and figuring out what to buy that is healthy! An added challenge is reading labels in different languages.
How long did it take you to reach a point where you felt "healthy"? 
For me as a professional model, going from "healthy" to "ripped" took some time, but the bottom line is that health has to be a lifestyle so I'll never arrive at healthy, I will just constantly journey towards it, sometimes falling back a few steps but always pressing on!
My family has always been fitness-oriented and I am blessed that I grew up in a very health-conscious family. My father just won the title of "Fittest on Earth" in the CrossFit Games in the Masters 60+ age group, so to me, there is no age limit to be in the best shape of your life. 
You have been an early advocate of sho Nutrition - what do you think of sho? 
First of all, I love the acronym and all it represents. I appreciate sho's consideration of "lifestyle" health because if it's not a lifestyle you're not gonna stick to it. We can do better for our health if it is simple, healthy, organized. I am also getting more and more interested in the eastern / Chinese functional medicine area, because I think the western way of "treating the symptoms" rather than the underlying disease is not the right way to go. 
How are you incorporating sho into your daily routine and how are you feeling the effects? 
It's in my vitamins/supplements pack and I just click once or twice a day. Again, it has to be an easy integration into your lifestyle. Figure out how to make it part of your routine. If it's cumbersome, it's not easy, you won't stick to it. 
I've been using sho Balance and at the risk of TMI, I think my bowels are becoming more regular. I'm usually fine but my travel schedule has been wearing on me recently and things had been a bit off. Since starting sho Balance two weeks ago, my regularity has returned and my immune system is staying strong as well. 
Could you share a piece of shoWisdom to help people live a simple, healthy, organized life? 
Always be self-experimenting and learning about your body, make wellness a lifestyle and remember that becoming healthy is a journey and NOT a destination--it never stops! And don't be afraid of the other two F-words: Fat and Fasting. :)
One of my primary core values is Integrity and to me, that means whatever I do or become involved with has to sync up with my lifestyle—so my health and fitness routine has to be integrated as well. And because I want to help people take back their health I've been developing Fitlife Unlocked, a holistic wellness and fitness lifestyle movement from my own experiences, training and education. I'm passionate about inspiring people to unlock their fittest life!
---
---
---
1 Response
Leave a comment
---