sho ENERGY+ is helping me in a stressful time both physically and mentally
by Joy Wang | January 10, 2018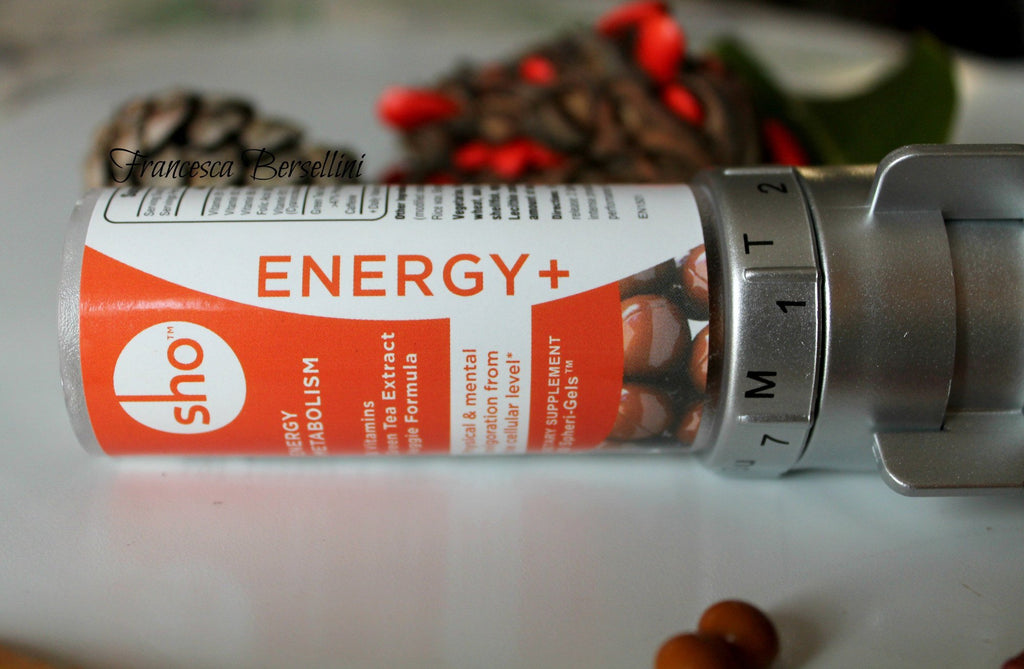 A special post authored by FRANCESCA BERSELLINI, a multi-facet, talented and beautiful (inside and outside) Italian blogger who specializes in health / beauty / fashion as well as in European and American Languages and Literatures. Here is the English version (check out its original post):
Good day, everyone!
Today I want to tell you about vitamins: a month ago, the brand sho Nutrition which launched their new vitamins and supplements, sent me one of their products to try. Before I tell you what I got, I would like to briefly talk about sho.
The company
Sho was established by the nutrition and wellness expert Joy Wang , who has decided to take time to experience physical and mental wellbeing. Joy, having lived in China, Japan and America, has managed to combine the Eastern and Western lifestyles, creating a line of dietary supplements that could complement a balanced diet.
The issues the founder focused on are the ones that concern the majority of consumers, namely: quality of the product, the tablet size, and the importance to recall your daily intake.
"Sho" is a play on words, because the same pronunciation of the word "show" means to show, and that's what Joy wants: show people a better way to manage their health and lifestyle.

Sho is a "health organizer", which combines two ideas
:
a dispenser that can show us every day if we took our dose of vitamins, without forgetting

a small pill, easy to swallow
The Sho tablets are all vegetarian , with natural ingredients and easy to ingest. In fact, they use Japanese technique of encapsulation that manufactures spherical gel capsules (Spheri-Gel ™ technology) that are easy to swallow, quickly absorbed and even nice to see.
The Spheri Sho-Gels contain no artificial colors, flavors, sweeteners, nor corn syrup, providing effective and essential nutrients for everyone, including vegetarians and vegans. They are gluten free and dairy free, and Do Not contain flour, lactose, nuts, fish, shellfish, eggs. (Lecithin contains a trace amount of soy protein.)
There are two types of available supplements:
Sho ENERGY +

: with vitamin Bs and Matcha, for a plus of physical and mental energy

Sho BALANCE

: with a probiotic blend that helps the balance of the c

olon
I chose Sho ENERGY+, because I take Kickboxing and Combat Strike courses that require a relatively high expenditure of energy and I have to study. But those who follow me on Instagram also know that unfortunately in the last month I suffered two small interventions, which have weakened me a lot, preventing me from going to the gym. Sho happened to be perfect, because at this time I needed a surplus of energy to reinvigorate my body.
It reactivates the metabolism and mental activity at the cellular level , promoting the food metabolism and nerve health through B vitamins, particularly folic acid, vitamin B6 and B12. Adding Extract Green Tea (Matcha) with natural caffeine keeps the mind relaxed , without excessive agitation or anxiety.
B vitamins: they play an essential role in food metabolism and neurological functions. Stress, anxiety, an unbalanced diet, aging... can lead to vitamin B deficiencies, with symptoms such as energy level drop, poor memory, irritability, mood swings, fatigue, etc.
Vitamin B12: is important for the nerves and the formation and red blood cells, and is derived only from animal-based foods. Research has shown that the intake of vitamin B12 and folic acid for a prolonged period of time improves cognitive functions such as the memory performance.
Vitamin B6: is required for the neurotransmitters of the brain. A daily dose of 20 mg for cognitive functions is recommended by the Mayo Clinic.
Matcha: is a particular type of Green Tea Extract that contains powerful antioxidants catechin polyphenols, including those that are effective in favoring the metabolism to burn calories and reduce the formation of free radicals. The Matcha with natural caffeine releases energy in balanced quantities that keep the mind and calm the body.
As you see, at the base of the package there is a small dispenser ring, which rotates on a daily basis then setting as the day (M = Monday, T = Tuesday, etc.), so you can not go wrong! ;)
Recommended dosage:
2 tablets per day for sustained energy efficiency
4 tablets per day for an important mental and physical redimento
I have found them very comfortable, very easy to ingest and above all without any side effect. They are helping me a lot to keep the energy level to an acceptable level in this very stressful time for me both physically and mentally. I promote it with absolute certainty!
The packs of 60 tablets can be purchased already equipped with dispenser, or without it, as a refill. The dispenser can be purchased individually. You can find all the necessary information on their site.
Sho Nutrition is also on:
Facebook -> https://www.facebook.com/shonutrition/
Instagram -> https://www.instagram.com/shonutrition/
Do you use supplements? I always do, for years, andI strongly recommend you to do so as well because they are very important!
See you soon!
---
---
---
Leave a comment
---